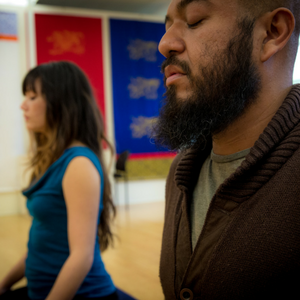 Meditation in Everyday Life
with Susan Boychuk & Blake H
The Way of Shambhala I is a series of classes designed to awaken us to the potential of our lives. It teaches us to live meaningfully with joy; to deepen our intelligence and compassion; and to learn to unify the practical and the profound. Daily life becomes an opportunity to further cultivate these qualities.
Meditation in Everyday Life, the first class in The Way of Shambhala series, is open to everyone and introduces students to a deeper experience of peaceful abiding as the foundation for their path, offering practical suggestions for developing a meditation practice at home.
The course will include video recorded talks by Shastri Janet Solyntjes, a senior teacher in the Shambhala Buddhist tradition and Adjunct Professor at Naropa University, as well as ample opportunity for practice and discussion.
We will consider the relationship between meditation, daily life, and creating enlightened society. The course also provides opportunities to work with challenges you may face in your individual meditation practice.
The Way of Shambhala I is our core practice and education program. It includes five Shambhala Training weekend programs (Levels I through V), and five companion 5-week classes (Meditation in Everyday Life through Wisdom in Everyday Life). You are encouraged to do both together, but it is possible to do just the weekends in order, or just the classes in order.
No prerequisite.
Generosity Policy
The Edmonton Shambhala Centre has a generosity policy in which no one is ever turned away due to inability to pay. Shambhala Edmonton encourages program participants to pay what they can afford. People whose financial situation limits their ability to pay may contribute to the extent they are able. No one will be turned away for lack of payment.
What is the Patron Price?
Those who are able to offer more than the regular program price can select the patron price option. By selecting this option, your generosity is helping to cover the costs of those who may not be able to pay the full price of the program.